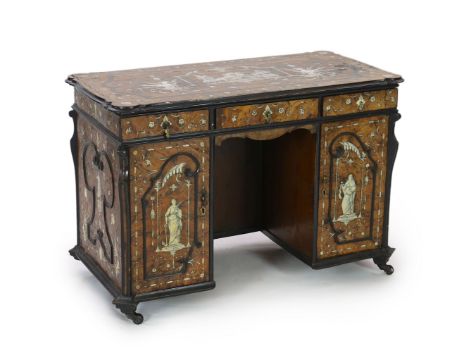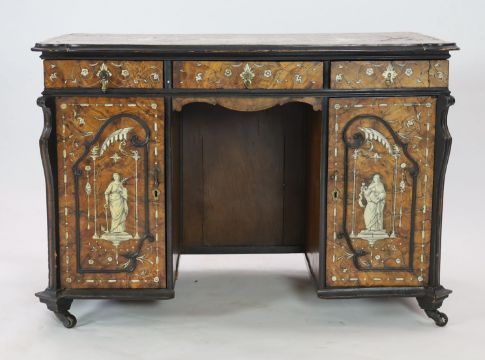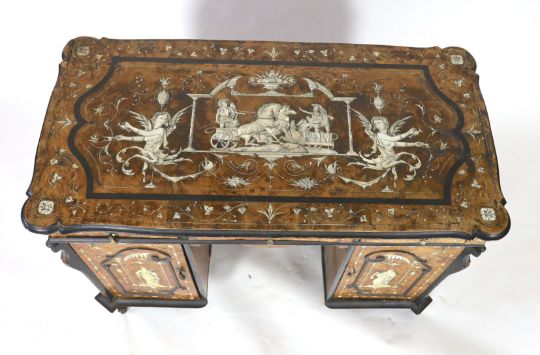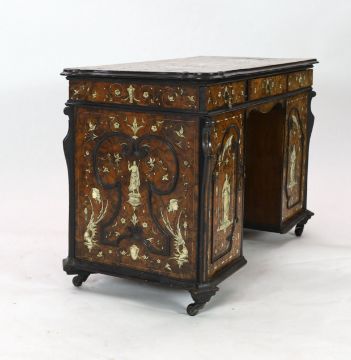 Click on the image to see full size
Use mouse wheel or two fingers to zoom in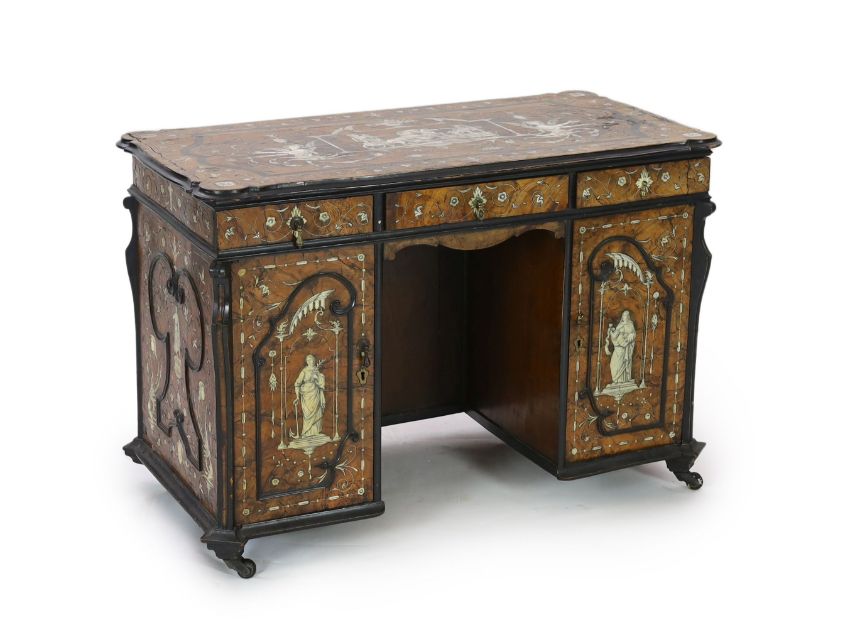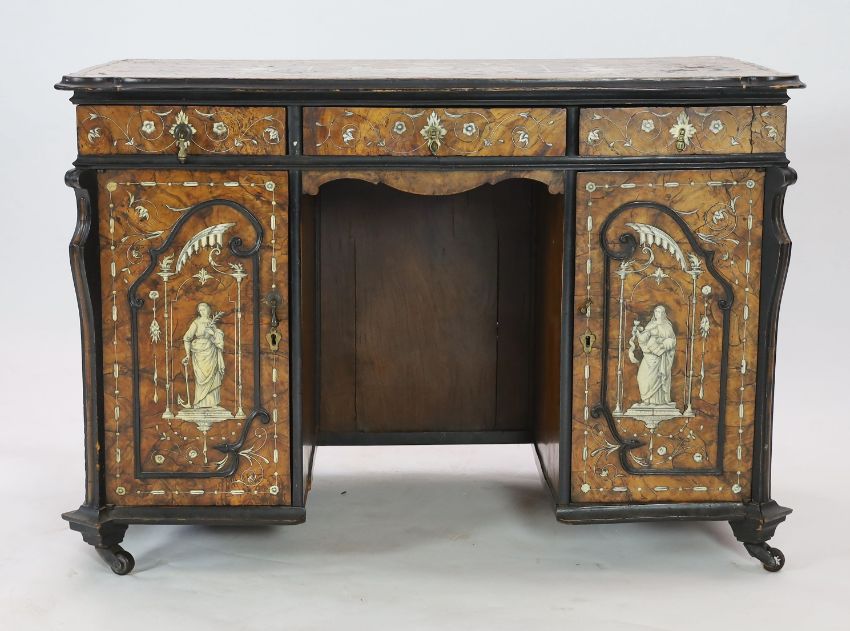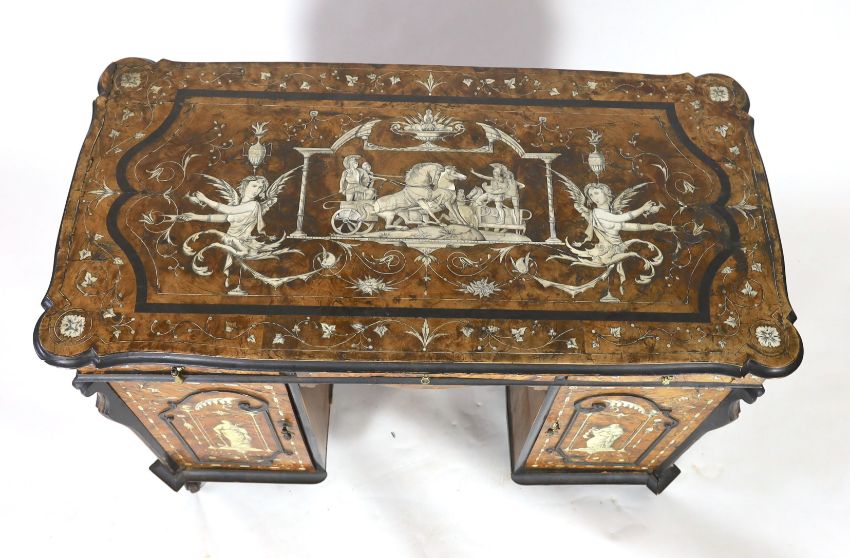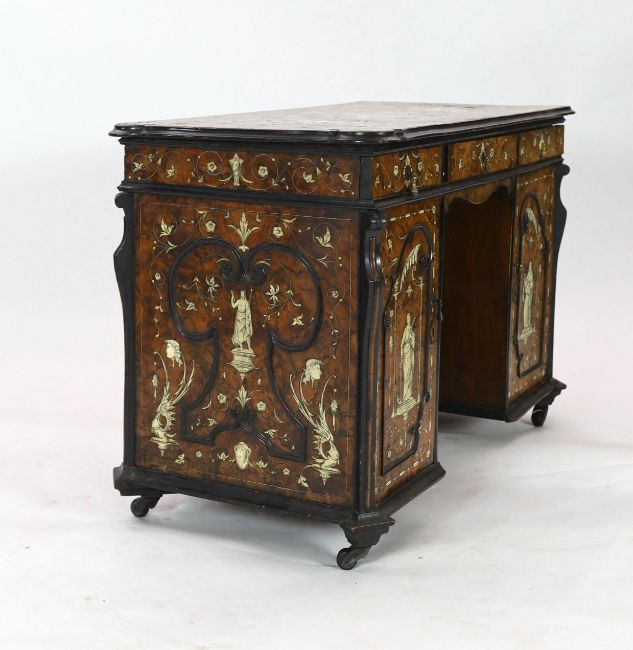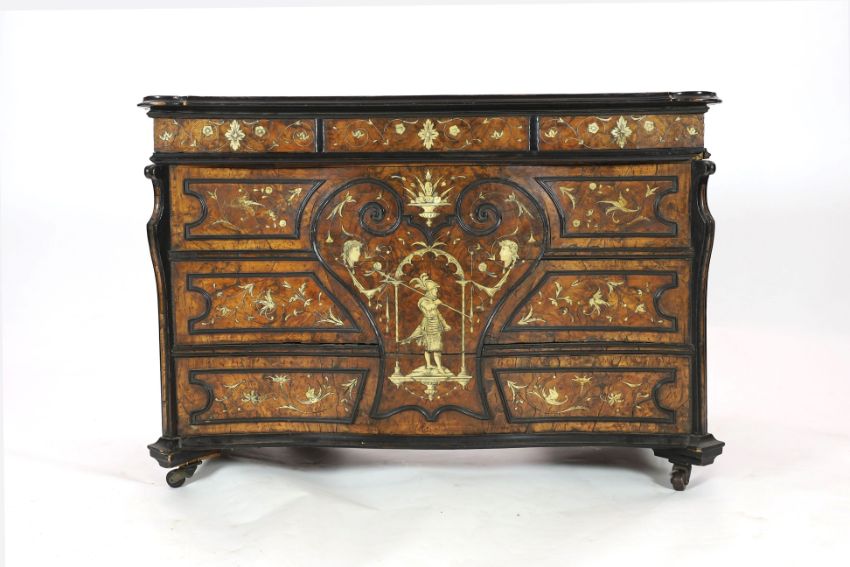 Live auction
Lot closed
Lot location
Lewes, East Sussex
An important 18th century Lombardy ebony banded walnut and ivory inlaid twin pedestal desk, the top and sides inlaid with a scenes from Homer's Iliad, after original drawings by John Flaxman RA (1755-1826),
within moulded shaped ebony cartouches, fitted with three frieze drawers over hinged cupboards, inlaid with allegories representing Hope and Faith, on later castors.
UK APHA Registration of an ivory item Submission reference: D99UXPKP W.118cm D.61cm H.82.4cm
LOT ESSAY BY DR. ARABELLA CIFANI
The scene is taken from a drawing that the English sculptor and draftsman, John Flaxman(1755–1826), made to illustrate the passages of Homer's Iliad, a commission proposed to him in 1791 by Georgiana Hare-Naylor while he was living in Rome. Here is represented a rare episode, with Polydamas, a character from Greek mythology soothsayer, adviser and valiant warrior, friend and lieutenant of Hector, who fought in the Trojan War and who, in the twelfth book of the Iliad, advises Hector not to cross a dangerous moat that was part of the defence at the Achaean port and also advises Hector not to continue the siege. Hector will not listen to him and will face death at the hands of Achilles (Homer Iliad 12.60).
''Then verily Polydamus drew nigh to Hector, and spake, saying: "Hector, and ye other leaders of the Trojans and allies, it is but folly that we seek to drive across the trench our swift horses; hard in sooth is it to cross, for sharp stakes are set in it, and close anigh them is the wall of the Achaeans.'' Homer - Iliad 12.60
John Flaxman, sculptor and draftsman, a leading proponent of English neoclassicism, created 34 drawings for Homer's Iliad in Rome in 1793, which were engraved on copper for the first time in Rome by Tommaso Piroli in 1793 ("L'Iliade et the Odyssée d'Homère gravéepar Thomas Piroli d'après les desseins composés par John Flaxman. 94 gravures ", Francesco Romero publisher, Rome, 1793). The meeting Flaxman and Piroli was a happy union, sealed by a public success that also provoked real acts of editorial piracy. "The reprints followed one another in various original editions or copies of the branches in different European cities, attesting to the vast success achieved from Flaxman's inventions masterfully translated and propagated with the burin of Piroli. Two years later, the plates for "The Iliad" were republished in London. In 1805, publishers Longman, Hurst, Rees and Orme printed new editions of both series, including eleven extra illustrations commissioned from Flaxman (five for "The Iliad" and six for "The Odyssey").
The style of the ivory inlay perfectly reflects the spirit of Flaxman's engraving, the figures in fact retain their taste for graffiti, which was an absolute novelty at the time. Flaxman avoided the background landscape, setting and detail, focusing on figures rendered with pure outlines. It has long been known that Flaxman drew on and synthesized a wide variety of visual sources in the development of his outline illustrations, combining classical figuration from "Etruscan" reliefs, sculptures, engravings and vases with forms derived from medieval and early Renaissance sources, life studies and observational sketches of daily Italian scenes and characters. Flaxman's style of illustration has been discussed and celebrated by a multitude of critics across Europe and has had a demonstrable influence on artists such as Ingres, Goya and Blake.
The cabinet is also enriched with other ivory inlays, representing divinities and allegories, including the allegory of Hope and Faith.
GORRINGE'S are grateful to Dr. Cifani, for her identification of John Flaxman's designs, used in the ivory inlays on this desk.
Overall a little evenly faded to a light walnut tone with old dents, small losses and splits throughout commensurate with age, ivory inlay looks to be mostly complete but some small losses notably to the right side of the top, the doors to the drawers are fitted with English locks but no escutcheons suggesting the later addition of the veneers, cupboard doors have Italian locks but no key, lower front right corner is broken with the foot now come loose, minor dents and scuffing elsewhere around the base.
PLEASE NOTE:- Prospective buyers are strongly advised to examine personally any goods in which they are interested BEFORE the auction takes place. Whilst every care is taken in the accuracy of condition reports, Gorringes provide no other guarantee to the buyer other than in relation to forgeries. Many items are of an age or nature which precludes their being in perfect condition and some descriptions in the catalogue or given by way of condition report make reference to damage and/or restoration. We provide this information for guidance only and will not be held responsible for oversights concerning defects or restoration, nor does a reference to a particular defect imply the absence of any others. Prospective purchasers must accept these reports as genuine efforts by Gorringes or must take other steps to verify condition of lots. If you are unable to open the image file attached to this report, please let us know as soon as possible and we will re-send your images on a separate e-mail.
W.118cm D.61cm H.82.4cm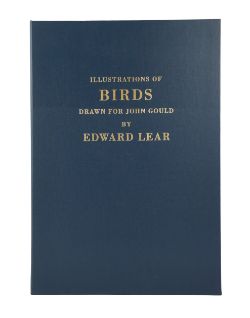 Venue address
15 North Street
Lewes, East Sussex
BN7 2PD
United Kingdom
Gorringes Fine Art & Antique Sale - Tuesday 28th June 2022
Auction dates
Jun 28, 2022 09:30 AM BST
Lots: 1 - 717
Viewing dates
Jun 24, 2022 09:00 AM - 05:00 PM BST
Jun 25, 2022 09:00 AM - 01:00 PM BST
Jun 27, 2022 09:00 AM - 05:00 PM BST
Jun 28, 2022 08:00 AM - 09:30 AM BST
| | |
| --- | --- |
| Auction currency | GBP |
| Accepted cards for registration | |
| Accepted cards for payment | |
SHIPPING
Gorringe's can arrange for in-house packing and shipment of some but not all lots. In-house packing is arranged on a 'first come-first served' basis. A charge will be made for this service please contact the department for an estimate. Where we are unable to provide packing and/or shipping we will assist with recommended removers and carriers. Please refer enquiries on this to our department dealing with the Sale.
INFORMATION FOR BUYERS
Introduction. The following informative notes are intended to assist Buyers, particularly those inexperienced or new to our salerooms. All sales are conducted on our printed Conditions of Sale which are readily available for inspection and normally accompany catalogues. Our staff will be happy to help you if there is anything you do not fully understand.
1.It is our policy to charge the Buyer all costs involved to cover our expenses relating to the payment of royalties under the Artist Resale Right Regulations 2006. You agree that we may add such amount to the purchase price.
2. Agency. As auctioneers we usually contract as agents for the seller whose identity, for reasons of confidentiality, is not normally disclosed. Accordingly if you buy your primary contract is with the seller.
3. Estimates. Estimates are designed to help buyers gauge what sort of sum might be involved for the purchase of a particular lot. The lower estimate may represent the reserve price and certainly will not be below it. Estimates do not include the Buyer's Premium or VAT (where chargeable). Estimates are prepared some time before the sale and may be altered by announcement before the sale. They are in no sense definitive.
4. Buyer's Premium. The Conditions of Sale oblige buyers to pay a buyer's premium at 23% plus VAT on the hammer price of each lot purchased plus 4.95% plus VAT live bidding fee.
5. VAT. (†) indicates that VAT is payable by the purchaser at the standard rate (presently 20%) on the hammer price as well as being an element in the buyer's premium. This imposition of VAT is likely to be because the seller is registered for VAT within the European Union and is not operating the Dealers Margin Scheme or because VAT is due at 20% on importation into the UK. The double symbol (**) indicates that the lot has been imported from outside the European Union and the present position is that these lots are liable to a reduced rate of VAT (5%) on the gross lot price (i.e. both the hammer price and the buyer's premium). Lots which appear without either of the above symbols indicate that no VAT is payable on the hammer price. This is because such lots are sold using the Auctioneers' Margin Scheme and it should be noted that the VAT included within the Premium is not recoverable as input tax. "Would buyers please notify Gorringes if they are VAT registered upon registration, and provide their valid VAT Registration Number. This information will be added to the customer database. This will enable those buyers to recover the input tax shown on their invoices relating to lots which are daggered or non-EU imported goods".
6. Descriptions And Condition. We are, primarily, agents for the seller. We are dependent on information provided by the seller and whilst we may inspect lots and act reasonably in taking a general view about them we are normally unable to carry out a detailed or any examination of lots in order to ascertain their condition in the way in which it would be wise for a buyer to do. Intending buyers have ample opportunity for inspection of goods and, therefore, accept responsibility for inspecting and investigating lots in which they may be interested. Please note carefully the exclusion of liability for the condition of lots contained in the Conditions of Sale. Neither the seller nor we, as the auctioneers, accept any responsibility for their condition. In particular, mechanical objects of any age are not guaranteed to be in working order. However, in so far as we have examined the goods and make a representation about their condition, we shall be liable for any defect which that examination ought to have revealed to the auctioneer but which would not have been revealed to the buyer had the buyer examined the goods. Additionally, in specified circumstances lots misdescribed because they are 'deliberate forgeries' may be returned and repayment made. There is a 3 week time limit. (The expression 'deliberate forgery' is defined in our Conditions of Sale).
7. Electrical goods. These are sold as 'antiques' only and if bought for use must be checked over for compliance with safety regulations by a qualified electrician first.
8. Export of goods. Buyers intending to export goods should ascertain (a) whether an export licence is required and (b) whether there is any specific prohibition on importing goods of that character because, e.g. they may contain prohibited materials such as ivory. Ask us if you need help.
9. Bidding. Bidders may be required to register before the sale commences and lots will be invoiced to the name and address on the registration form. Some form of identification may be required if you are unknown to us. Please enquire in advance about our arrangements for telephone bidding.
10. Commission bidding. If you are unable to attend the sale commission bids may be left with the auctioneers indicating the maximum amount to be bid excluding buyers' premium. They will be executed as cheaply as possible having regard to the reserve (if any) and competing bids. If two buyers submit identical commission bids the auctioneers may prefer the first bid received. Commission bids must be with the auctioneers 24 hours before the date of sale. Please enquire in advance about our arrangements for the leaving of commission bids by telephone or email to clientservices@gorringes.co.uk . A Commission Bids form is printed in the back of this catalogue.
11. Telephone bidding. Telephone bids can be booked, by prior arrangement with the office for Lots estimated in excess of £500, subject to the availability of a limited number of telephone lines.
12. Methods of Payment. We do not accept credit cards. As a general rule any cheques (GBP only) tendered will need to be cleared before removal of the goods is permitted. We accept most debit. WE DO NOT ACCEPT PAYPAL. Due to money laundering regulations clients wishing to pay £9000 or more in cash will be asked to provide proof of identity and address, or payment by bank transfer. Please discuss with our Office in advance of the sale if other methods of payment are envisaged.
13. Collection and storage. Please note what the Conditions of Sale state about collection and storage. It is important that goods are paid for and collected promptly. Any delay may involve the buyer in paying storage charges. Where practical and upon receipt of payment clearing will be permitted during and immediately following the sale and for the following week during office hours. Please note that it is the responsibility of the buyers to ensure that any lot purchased is complete as at the time of collection from the saleroom. The Auctioneers can take no responsibility for any item or items found to be damaged or missing after the lot has been removed from the saleroom.
14. Artist's Re-Sale Right
From mid February 2006 living artists are entitled to receive a re-sale royalty each time their artwork is bought or sold by an art market professional. This new law has been introduced in the UK following a European directive. Works sold for a sum of 1000 euros (approximately £680) or more will be subject to the following additional charge as per the scale rate shown below. This will be charged to the buyer of any eligible lots and will be based on the hammer price. Lots that may potentially incur this charge will be announced from the rostrum.
Portion of the sale price Royalty Rate
From 0 to 50,000 euro 4%
From 50,000.01 to 200,000 euro 3%
From 200,000.01 to 350,000 euro 1%
From 350,000.01 to 500,000 euro 0.5%
Exceeding 500,000 euro 0.25%
14. Packing and shipping. Postage and packing can be arranged by the Auctioneers. Please contact us to discuss your requirements. PLEASE NOTE WE DO NOT SHIP FURNITURE.
CONDITION REPORTS
IT IS STRONGLY ADVISED FOR ALL BIDDERS TO REQUEST A CONDITION REPORT PRIOR TO BIDDING, WE MAKE NO GUARANTEES ABOUT CONDITION ON ANY ITEM WITHOUT REFERENCE TO A PREVIOUSLY REQUESTED CONDITION REPORT.
AUCTION - We will be starting at 09:30 with lot 1
VIEWING - Viewing will take place from Friday 24/06/22 - 28/06/22 (CLOSED ON SUNDAY)
ONLINE BIDDING via www.gorringes.co.uk and thesaleroom.com
COMMISSION BIDS via email to clientservices@gorringes.co.uk
REQUESTS for additional information on specific lots to clientservices@gorringes.co.uk
FULL PACKING AND POSTAGE SERVICE - AT COST, OR VIA MAILBOXES.